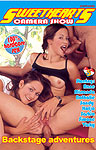 Taken from the DVD: Sweethearts Camera Show
Here's your chance to have a peek behind the scenes of our photo sessions: Watch how our models enter our studio, undress slowly in front of the camera and then... let themselves go all the way! With Anne, Mirranda, Nathalie, Sandy, KAtja, Saskia, Simone and Vicky.

Click here to download the full Video!